Hamish a Pets As Therapy Volunteer visits ESPA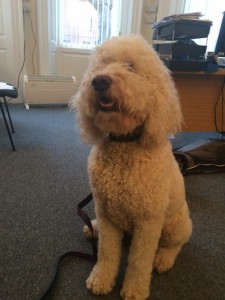 ESPA was proud to welcome a very special visitor to the Cloisters this week. Hamish works as a Pets as Therapy volunteer in his spare time with his owner Tania. Pets as Therapy (PAT) is a national Charity that provides therapeutic visits to hospitals, hospices, nursing and care homes, special needs schools and a variety of other venues by volunteers with their own friendly, temperament-tested and vaccinated dogs and cats. The Charity is increasingly asked to become involved in specialist animal-assisted therapy interventions, for example in stroke rehabilitation work and phobia desensitisation work for children and adults with dog phobias.
Hamish visited to assist one of our Psychologist's, who has been doing some graded exposure work with one our service users who has been very frightened of dogs for a number of years. Hamish visited the Cloisters and met a number of the staff, in addition to doing some work. He was beautifully behaved throughout, and was very calm. The therapy session went extremely well too! His owner Tania said that she felt Hamish had benefitted from all of the hugs and strokes he received. His continually wagging tail, made us all think that it was certainly a visit that Hamish enjoyed too.
We are very much looking forward to another visit from Hamish and Tania in the next few weeks.
Jo Stokoe – ESPA  Consultant Psychologist.