'The Croft Social' events and evenings are much enjoyed.
When the number of people attending the Tuesday Club reduced, staff conducted a consultation and as a result of feedback a new monthly gathering, 'The Croft Social' was established. Since it was formed it has hosted a variety of social evenings including; barbecues, summer fetes, 1970s disco and Valentines masquerade ball, Halloween fancy dress parties, a fireworks display and Christmas Ball.
There has also been a variety of cultural events to celebrate the Chinese New Year, St. Patricks Day and St. George's Day.
In 2017 we saw the introduction of the first annual Matthew Ettie Shield Games Night, in tribute to Matthew. Many people attended The Croft Centre to celebrate the life of Matthew and take part in a Play Your Cards Right tournament. The overall winners were presented with an engraved shield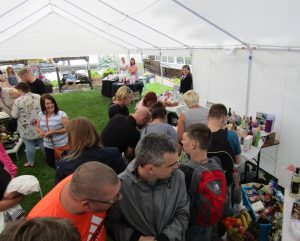 Our enterprise project, Croft Crafts successfully marketed their products via the annual summer craft fair which was held in a large marquee in the garden. There were a variety of stalls including cakes and homemade fudge. Visitors enjoyed tombola, a coconut shy, pick n mix, hot food, coffee bar and a bric-a-brac stall. Local businesses, families and friends donated over £1000 of prizes for a raffle which raised £1120.  This will be put toward the purchase of a fully resourced summer house for the Croft centre garden that all participants will be able to enjoy.
Past fund raising efforts have enabled us to improve our sensory room, install a waterbed and also a Jacuzzi spa bath.
Looking forward, The Croft Centre staff team endeavour to host more diverse celebrations, encouraging everyone to meet, mingle, share a drink, enjoy food and have a laugh.
Events currently being planned for the rest of the year are; a Halloween party, followed by our third annual fireworks display then another Christmas Ball.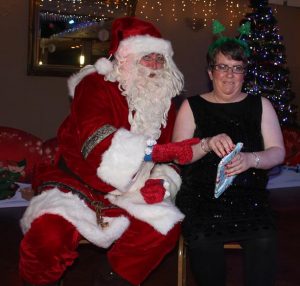 Many thanks, to everyone who has attended The Croft Social so far, as well as all the staff who support people to attend and work so passionately to put on an evening for all to remember and enjoy.