ESPA College Graduation, July 2018.
As ever, our annual awards ceremony is always the highlight of the College calendar and this year was yet another resounding success!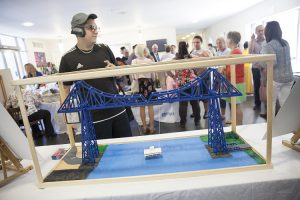 It was fantastic to see all of the students' work featured on displays and stalls – however we must save a special mention for the impressive Transporter Bridge display from the students at  My Place.  
Special mentions to  staff;  San, Donna, Linda and Beverley for all of their help planning this year's event and a big 'Thank you',   to Spectrum Savvy, Joanna Dionysou and Eric Boddy for their performances.
Well done to Bobby Therani and Georgia Alford for their awards and good luck to all of our graduates – we'll miss you!