Beechwood Celebrate 'Outstanding' inspection by CQC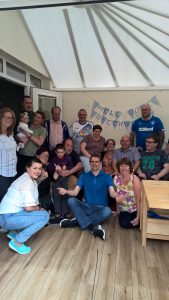 Beechwood was inspected by the Care Quality Commission (CQC) in February this year and the final report was published on 13th July 2017.
CQC assessed the quality the service against 5 Key Lines of Enquiry as follows:
Is the service: safe, caring, effective, responsive, well lead?
Following the Inspector's two day assessment Beechwood received an overall assessment of "Good" with "Outstanding" in the area:  is the service responsive?  This is an extract from the report summary:
The service was Outstanding.
People said they had "great" quality of life at Beechwood.
People received very personalised support. The service enhanced their skills, independence and lifestyle.
People felt they had been supported to find meaningful occupations in the community which they found fulfilling, purposeful and enjoyable.
The staff team are absolutely thrilled with the Inspector's findings and the excellent report which highlights the hard work and progress achieved by individuals, the service and staff team. To achieve an 'Outstanding' rating is an incredible achievement, especially in the domain Responsive, which is how we empower, listen, respond to and meet the needs of all individuals.
The service celebrated this success together with games, cakes at a fun day including a BBQ.
Beechwood also said 'thank you' and gave a fond farewell to a colleague who was retiring that day.
Click on the link below if you would like to peruse the full report.
http://www.cqc.org.uk/sites/default/files/new_reports/INS2-2718744879.pdf